On Wednesday November 16,th representatives of the Religious Education teachers from the three Marist schools and members of the Marist Education Authority met with Rev. Professor Declan Marmion.
The afternoon began with a presentation delivered by Professor Marmion examining the role of Mary. We explored the New Testament texts which make reference to Mary that would be helpful to a teacher working in a Marist school. We focused our attention on the texts that define Mary's role in the formative stages of the life of Jesus as a child growing up in Nazareth and on Mary's role in the nascent stages of the Church at Pentecost.
Mary's role in Nazareth as represented in the Gospels is one of quiet patience. She is an unassuming, gentle presence fully engaged in life. As a mother she observes her son's growth from boy to man. She is kind and compassionate to her child and to those around her.
Her role in Jerusalem at Pentecost, as described in Acts, is another example of her humility. She does not capitalise on her role as mother of Jesus, her focus is on God and community. Mary seeks out those who are in need of mercy, the poor and those who lack dignity. Mary's mission at the early stages of the Church is to those who are alienated from society. She fulfils this role in her usual manner, persuasively but quietly.
The afternoon concluded with a discussion chaired by Professor Marmion on the aspects of Marist spirituality that are relevant in our roles as educators and the evidence of the Marist ethos in our schools. The discussion was stimulating and left everyone enthused.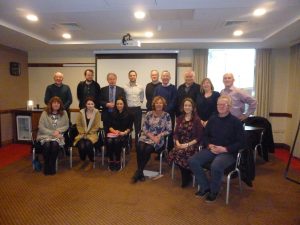 Deirdre Maloney