The third annual meeting of the Heads of the educational centres in the Province of Europe was held from 31 January to 2 February 2018 at St Mary's College, Dundalk. It was the first time one of our schools had hosted the event and the wonderfully warm welcome we were given was in keeping with the traditional Irish greeting « Céad míle fáilte » which means a hundred thousand welcomes.
The civic reception at the County Museum on the Thursday evening was enhanced by the musical accompaniment given by teachers from the school. And the students also played a major part in the event: they welcomed us with traditional Irish songs, took part in our prayer time, acted as guides for our tours of the new school building (opened in May 2016), taught us how to make St Brigid's crosses, and put on a super show of Irish dance, songs and music to say farewell at the end of the meeting. We had days of collegiality, conviviality and sharing that strengthen our Marist identity,
but days of very productive work as well. The main aim of the meeting was to discuss and act upon the theme: "Building the Network together: the next step". Thanks to the enthusiasm, commitment and creativity of our Heads, the outcome of our deliberations is an impressive list of common projects which will enable us to strengthen our links and develop the Network further.
.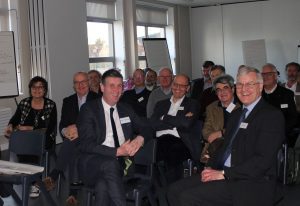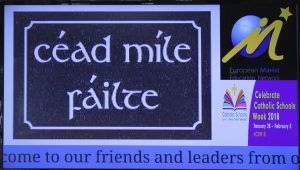 The outcome of our deliberations is the following list of five common projects for 2018/19 which will enable us to strengthen our links and develop the Network further:
1 Common research project on the attitudes and opinions of our students in relation to their experience of a Marist education; 
2 Individual student and teacher exchanges;
3 La Neylière 2018 : Accompanied retreat for 18 to 30 year olds from 23 to 29 July 2018;
4 Camino de Santiago;
5 Compiègne 2018 : Youth Forum for Peace.
The details of these projects will be published on the blog in the weeks and months to come. 
Meanwhile, here are some photos to remind us of the wonderful welcome we received from our friends in Dundalk.
Donald Lillistone