The Education Network Camino de Santiago has been completed very successfully. A group of ten teachers, former teachers and the Education Deputy walked the 112 Km from Sarría to Santiago.
The group's pilgrimage began in Sarría, bright and early on a misty morning which developed into a most perfect day for walking through beautiful countryside, farms and forests.
The third annual meeting of the Heads of the educational centres in the Province of Europe was held from 31 January to 2 February 2018 at St Mary's College, Dundalk. It was the first time one of our schools had hosted the event and the wonderfully warm welcome we were given was in keeping with the traditional Irish greeting « Céad míle fáilte » which means a hundred thousand welcomes. The civic reception at...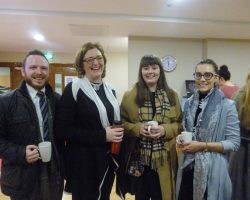 The 2018 Leadership course has begun with Mary Forde's presentation in January. Nineteen people are taking part which shows a huge commitment to their schools....
The 2107 Staff trip to La Neyliere was a very successful one. Enhanced by the beautiful weather and a good spirit, everyone enjoyed the journey. Fr Jimmy McElroy was on hand to meet people which made everyone feel welcome. Here are a few of the comments made by the participants.
Dear Kevin
Many thanks again for this excellent trip which I thoroughly enjoyed. I believe everything worked very well and...